Named for Henry Knox
Henry Knox [1750-1806] was a soldier in the American Revolution. He later became a Major General. Knox was US President George Washington's Secretary of War from 1785-1795.
Established Seven Years after Illinois became a State
Formed on 13 Jan 1825 primarily from unorganized terrritory attached to Pike County, Illinois. A portion of the southern edge of Knox was formed from Fulton County, which had existed a mere two years.
The size of Knox County changed several times between 1825 and 1839, when the current borders were established.
Part of the Military Tract
Land granted to veterans of the War of 1812. [More about the Military Tract]
Site of the 5th Lincoln-Douglas Debate of 1858.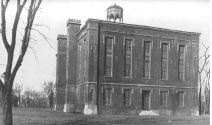 1908 Photo Old Main, Knox College, Galesburg, Illinois, USA
Old Main on the campus of Knox College in Galesburg was the site of one of the famous debates between Stephen Douglas and Abraham Lincoln during their race for a Senate seat.
[More about the debates]
Carl Sandburg State Historic Site
The Sandburg Home is a state historic site. Sandburg was born Galesburg in 1878. He was a poet, author of children's stories, and won the Pulitzer Prize for multi-volume biography of Abraham Lincoln.
Central Congregational Church
Central Congregational Church on Galesburg's square was the site of the Old First Church founded by original settlers of Galesburg. Built in 1898 of Michigan red sandstone in the Richardson Romanesque style, it is on the National Register of Historic Places