Townships of Marshall County, Illinois, USA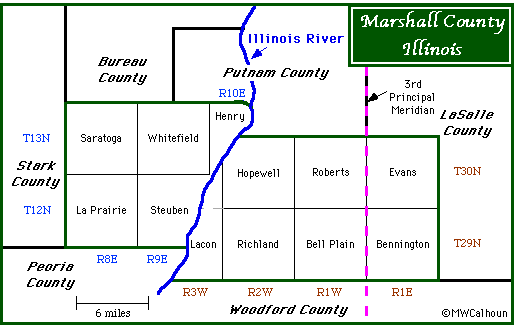 Townships in the Federal Township-Range System are named by township and range numbers. On the west side of the Illinois River, they are measured from the 4th Principal Meridian and Baseline. On the map, these designations are in blue letters. On the east side of the River, the townships are measured from the 3rd Principal Meridian, which runs through Marshall County. These designations are in brown letters.
Where named townships differ from Federal Township-Range boundaries, the Federal System boundaries are in dashed, gray lines.
More about the Federal Township-Range System
---
| Marshall County | Other Illinois Counties | Infobahn Outfitters Home Page |
---

Looking for more info? Copyright © 1996-2023 Infobahn Outfitters, Inc, All rights reserved.