Illinois
in the
1858 Senate Race and 1860 Presidential Race
---
1858 Senate Race - Douglas vs. Lincoln
1860 Senate Race - Douglas vs. Lincoln
Maps are adaptations of 2 from The Era of the Civil War, 1848-1870, vol. III of "The Centennial History of Illinois" by Arthur C. Cole, 1919, published by the Illinois Centennial Commisssion, Springfield, IL.
---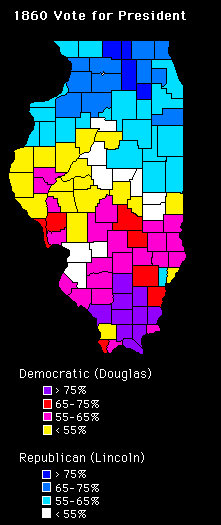 ---
About the Republican National Convention of 1860
The Convention was held in Chicago in a specially constructed building called the Wigwam. For more info about the event:
---
| Illinois History Pages | Infobahn Outfitters Home Page |
---

Didn't find what you wanted? Check our Illinois Links.
---
Copyright © 1995-2022 Infobahn Outfitters, Inc., All rights reserved.