---
Famous Illinoisians with Civil War Ties
---
Stephen Arnold Douglas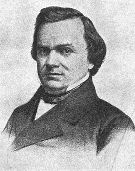 Lawyer - Orator - Political Leader
---
Born 23 Apr 1813 near Brandon, Vermont
nicknamed "The Little Giant" for his short stature, large head, & broad shoulders
migrated to Illinois at age 20
joined the bar (became a lawyer) at Jacksonville, Illinois
Democrat
Wealthy land speculator
Helped make Chicago a major hub of railroads
Elected to Illinois legislature in 1836
Judge of Supreme Court of Illinois 1841-1843
Elected to US House of Representatives in 1843
Elected to US Senate in 1847 [Senator until 1861]
Supported the Compromise of 1850 (Missouri Compromise)
In US Senate, sponsored the Kansas-Nebraska Act of 1854
which was Popular Sovereignty
[Right of People in each state to choose between slave state - free state status]
Resulted in "Bleeding Kansas"
Series of Debates with Abraham Lincoln during US Senate election campaign in 1858
Nominated for US Presidency in 1860
[not supported by southern Democrats who nominated John C. Breckenridge]
Offered his services to President Lincoln after the outbreak of the Civil War
Douglas toured border states to arose enthusiasm for Union cause
Stricken with typhoid in 1861
Died 3 June 1861 in Chicago, two months after Fort Sumter Incident
Buried at 36th Street near Lake Shore Drive, Chicago, Illinois [Douglas Tomb State Historic Site]
Douglas County, Illinois [formed 8 Feb 1850] is named for him.
---
References:
World Book Encyclopedia, v. 4 (1970) Field Enterprises Educational Corp
Illinois Blue Book (1989-90)
The 1995 Grolier Multimedia Encyclopedia, v. 7.0
Photo from The Era of the Civil War, 1848-1870, vol. III of "The Centennial History of Illinois " by Arthur C. Cole, 1919, published by the Illinois Centennial Commisssion, Springfield, IL.
---
| Main Page | About this Site |
---
Contact the webmaster
Web Hosting donated by: Infobahn Outfitters, Inc.

This document: http://illinois.outfitters.com/illinois/history/civil/douglas-sa.html
Last update: Monday, 08-Jan-1996 13:14:44 CST

---
Copyright © 1996-2023 Infobahn Outfitters, Inc, All rights reserved.