Explore the Colony
Bishop Hill, Illinois, USA
---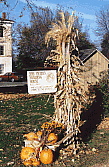 Broom Corn
Income from broom corn was significant to the success of the Colony. The shock here stands in front of Mrs. Smith's Boarding House. The small building to the right is the Colony Woodshed, a small shop. The large building on the left is the Steeple Building.
Vasa Order of America, National Archives
---
---
| Henry County Home Page | Infobahn Outfitters Home Page |
---

Didn't find what you wanted? Check our Illinois Links.
---
Copyright © 1995-2022 Infobahn Outfitters, Inc., All rights reserved.