Explore the Steeple Building
Bishop Hill, Illinois, USA
---
Built in 1854 of brick and stucco, the building has served many purposes. One of its outstanding features is the clock tower. Each of its four faces has a clock with only one hand, which makes the mechanism much simpler.
In front of the building are bricks from the Bishop Hill Heritage Association.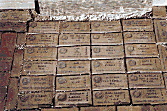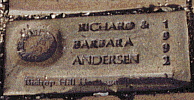 Two of the bricks.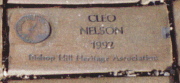 The Heritage Museum in the Steeple Building has Historical Exhibits, including a 14 minute movie about Bishop Hill.
---
---
| Henry County Home Page | Infobahn Outfitters Home Page |
---

Didn't find what you wanted? Check our Illinois Links.
---
Copyright © 1995-2022 Infobahn Outfitters, Inc., All rights reserved.