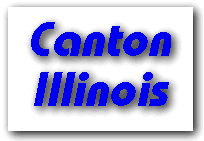 Founded in 1825, Canton is located in West Central Illinois between the Illinois and Mississippi Rivers. The city occupies four and one-half square miles of prime prairie land.
Canton is the largest city of Fulton County and serves as the commercial and trading center of the area. The area is filled with owner-occupied homes, several small industries, and hundreds of small retail and service businesses. Within the city is a downtown square, a retail mall, several department stores and many other commercial buildings.
---
Information and pictures provided by:
Canton Area Chamber of Commerce
2 North Main (2nd Floor)
Canton IL 61520 USA
309-647-2677
---
This URL: http://illinois.outfitters.com/illinois/fulton/canton.html
Technical webmaster: webmaster@outfitters.com
Copyright © 1996-2022 Infobahn Outfitters, Inc, All rights reserved.