Companies merge to expand local fiber network
By David Torbert
Published: Monday, March 24, 2008 10:47 PM CDT, MacombJournal.com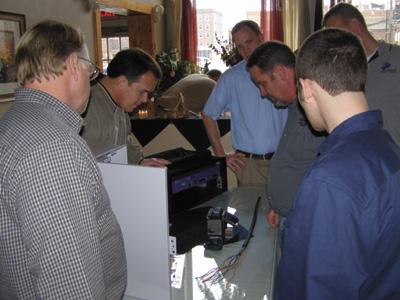 DAVID TORBERT/JOURNAL PHOTO-Local business owners took time last week to attend the 2008 Fiber Expo hosted by the McDonough Telephone Cooperative and Infobahn Outfitters, Inc. The merged companies hope to include Macomb businesses in the fiber network already running throughout area communities, and eventually hope to offer high-speed Internet and video services to select residential areas of Macomb in the near future.
MACOMB - By now, at least a strong majority of homes and offices are equipped with some sort of Internet connection, but the McDonough Telephone Cooperative and Infobahn Outfitters, Inc. hope to connect all Macomb residents into their high-speed connection service.

On Jan. 1, the merger between MDTC and Infobahn went into effect, combining a wide variety of high-tech services which include Internet, video, telephone, and custom Internet training for local businesses.

In an effort to market their new idea, the newly-formed partnership invited local business owners to an informal demonstration of their system, and unveiled the map for the proposed fiber loop that will connect most of Macomb in for high speed Internet.
"Basically, what we're doing is allowing the local businesses to come in so we can explain what we're doing with the fiber project between McDonough and Infobahn," said MDTC President-CEO Bill Buchanan.

"And taking the opportunity to let businesses ask questions to let us know what their needs are, and their demands from a communications standpoint. Hopefully, we're going to try and learn as much information as we can from the community, and try to develop a network here."

What Buchanan learned on Wednesday was that area businesses want more bandwith in their Internet connection, and the presence of a back-up network was also a high priority for those businesses that attended.
"The biggest thing we've heard today is that people want more bandwith and more redundancy in the network to know that if somewhere were to get cut, it wouldn't put them out of business," said Buchanan. "That's something we've already built into our network, and that we would expand into this network as well."

Another service offered by MDTC would be the ability for local banks to connect to satellite locations in other communities to keep an open line of communication between the two and share critical information.

"Banks are a great example if they have multiple locations," said Buchanan. "They can actually connect via their own network, and that works out well."
Businesses are not the only target on the radar for MDTC, however, as it hopes to expand its services to include certain residential areas where there is a mass of interest in acquiring the service.

"Where it makes sense is where there is a density of customer-based interest, and I think that makes a lot of sense to accelerate that and get in there in the next year," said Buchanan. "I think areas where there's areas with not as much interest, or areas where there's a lot of competition, we may not be as aggressive."

The MDTC began in 1951, with the installation of the first fiber cables in the late 1980's, and today has grown to almost 500 miles of fiber cables weaving throughout western Illinois.
"We're already doing this stuff in our own communities," said Buchanan. "This is kind of filling in the center of that where we're already doing most of this."
Copyright © 2008 MacombJournal.com (reproduced with permission of Editor)