Illinois Railroads, 1850-1860
Between 1850 and 1860, the rail system in the state of Illinois grew to serve the entire state. The railways were instrumental in the development of the state, allowing farm produce, mineral ore and coal to be transported with ease.
The map below shows railroad development between 1850 and 1860. The numbers refer to named railroads, as defined below the map. The map is adapted from one shown in The Era of the Civil War, 1848-1870, vol. III of "The Centennial History of Illinois" by Arthur C. Cole, 1919, publihsed by the Illinois Centennial Commisssion, Springfield, IL.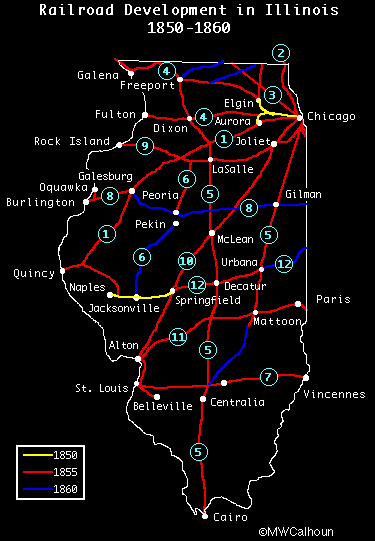 Names of the Railroads depicted in the Map
Chicago-Burlington-Quincy
Chicago & Milwaukee
Chicago & Northwestern
Galena-Chicago Line
Illinois Central
Illinois River RR
Ohio & Mississippi
Peoria & Oquawka
Rock Island
St Louis-Alton & Chicago
Terre Haute & Alton
Toledo, Wabash & Great Western
---
| Illinois History Pages | Infobahn Outfitters Home Page |
---

Didn't find what you wanted? Check our Illinois Links.
---
Copyright © 1995-2022 Infobahn Outfitters, Inc., All rights reserved.