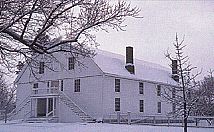 Descendants of the Bishop Hill Colonists
Henry County, Illinois, USA
The formation of the Bishop Hill Colony is recognized as one of the largest driving forces in the immigration into the United States of millions of Swedes and others from Scandinavia. Bishop Hill was a focus of the Swedish and American Jubilee Committees during the year 1996. Other participants included Ellis Island Immigration Museum, Indianapolis Chidren's Museum, and the Minnesota History Center.
As part of the "Emigrants and Immigrants in Swedish History, 1846-1996", the Bishop Hill Old Settlers Association was compiling a list of the living direct descendants of the Bishop Hill Colony, beginning in 1846 and ending in 1861.
If you are a direct descendant or know someone who is, please send the name and address to
Bishop Hill Old Settlers Association
Box 68
Bishop Hill, IL 61419
If you are looking for information about Bishop Hill's colonists, try the info which is an extension of the Henry County, ILGenWeb project or this site hosted by rootsweb.com.
---
Historical Archaeology at Bishop Hill, Illinois
1994-1995 Project: excavations around the Boy's Dorm behind the Colony Church
For more information contact the Bishop Hill State Historic Site.
---
Tracing Swedish Ancestry
Those desiring to trace Swedish roots may find assistance in Swedish-American colleges or museums.
Swenson Swedish Immigration Research Center at Augustana College, Rock Island, IL 61201
Vasa National Archives in Bishop Hill, IL
Some WWW resources for tracing Swedish Roots and Swedish-American History include:
---
---
| Henry County Home Page | Infobahn Outfitters Home Page |
---

Didn't find what you wanted? Check our Illinois Links.
---
Copyright © 1995-2022 Infobahn Outfitters, Inc., All rights reserved.