Explore the Bishop Hill Park
Bishop Hill, Illinois, USA
---
Constructed in 1855.
---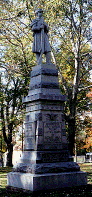 INSCRIPTION:

Dedicated July 4, 1899 to the Loyal Sons of Bishop Hill & Vicinity
who fought for the preservation of the Union.
--
Our Soldiers
--
Sacred to the memory of our fallen heroes.
---
Site of Colony Dugouts, 1846-1855
About 470 colonists spent the first 2 winters in 12 dugouts. Many died. Each dugout was 25 to 30 feet long and 18 feet wide. In one dugout, there were three tiers of beds on each side with three women in each bed, or a total of 52 unmarried women.
Site of Colony Big Brick
The Colony Big Brick, a residence hall was built from 1849-1851. The structure burned in 1928, but photos are displayed in the Church museum.
About 1848, the colonists began firing brick from clay from the nearby Edwards River. Some bricks were signed and decorated by the women and children who made them. Some signed bricks can be seen in the Colony Church museum.
---
The plaque shown here is in Swedish. An adjoining face is written in English.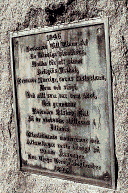 INSCRIPTION:

1846
Dedicated to the memory of the hardy pioneers who in order to secure religious liberty left Sweden their native land with all the endearments of home and kindred and found Bishop Hill colony on the uninhabitated prairies of Illinois. Erected by surviving members and descendants on the 50th anniversary September 23, 1896.

---
Gazebo
A gazebo is also located in the park.
---
---
| Henry County Home Page | Infobahn Outfitters Home Page |
---

Didn't find what you wanted? Check our Illinois Links.
---
Copyright © 1995-2022 Infobahn Outfitters, Inc., All rights reserved.