Oak Hill Cemetery
Lewistown, Illinois, USA
Oak Hill Cemetery and the surrounding community served as a basis for Edgar Lee Masters' Spoon River Anthology. The cemetery is the resting place of many citizens of Spoon River Country.
Interesting tidbits about the cemetery:
Lived in 3 centuries
Nathaniel Bordwine - born in 1799, died in 1900
Sandstone columns from old courthouse which was burned in 1894
Abraham Lincoln and Stephen Douglas each spoke from the courthouse steps.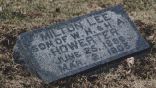 Milton Lee Howerter
Son of Hattie (Beadles) and William Howerter. According to John Depler [Favorite Columns from "The Years that Were", 1969, Mid-County Press, Lewistown, IL] the high school senior drowned while duck hunting along Spoon River. Lee was "a popular and fine looking young man of 18 and captain of the football team".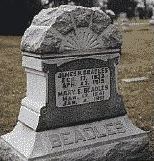 James H. Beadles
James Harvey Beadles was born in Bernadotte Township in 1832, soon after his parents moved to Fulton County from Kentucky. His wife, Mary Elizabeth Haney Beadles was a relative of Milton Haney, the famous chaplain of the 55th Illinois Infantry during the Civil War. James Beadles' brother Joseph was also a member of the famous 55th. Joseph was wounded during the Battle of Shiloh [Pittsburg Landing], Tennessee.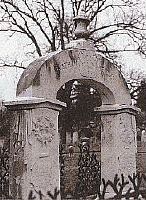 Nathan Beadles
Nathan Beadles was an early settler of Fulton County, arriving from Kentucky about 1830. He and his two wives are buried in this fenced plot. Nathan's sister Mary and her husband William Randall are also buried here. Nathan was the basis for Masters' poem "Nicholas Bindle" in the Spoon River Anthology. Read Nathan's biography.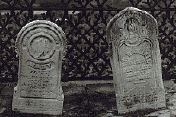 William and Mary [Beadles] Randall
William and Mary Randall lived in Lincoln and Warren Counties in Kentucky during the early 1800s. In the 1820s they moved to Missouri. During 1850, the family moved again, this time to Fulton County, Illinois, where their children and some of the Beadles family lived. Their descendants include Robert and Philip Randall who were pharmacists in Lewistown during the late 1800s.

[Spoon River Anthology]
---
| Fulton County | Infobahn Outfitters |
---


Looking for more info?

Copyright © 1995-2013 Infobahn Outfitters, Inc., All rights reserved.